Our event in Washington
Here are some of my thoughts about the Elba River Wreath Laying at Arlington national Cemetery:
Unlike most Americans less than the age of 40, the people of Russia and people of other countries allied with the Russian people during WWII understand the meaning of the Great Patriotic War as they call it. They lost millions upon millions of citizens and soldiers and naval personnel. So many families were touched by this war and are still touched today even after 70 years. As I watched the ceremony, I saw very young and old alike take the occasion in a solemn remembrance of all those that gave the supreme sacrifice so that the tyranny of fascism would be removed from Europe and hopefully from the world. All those people gathered were moved by the simple act of the occasion. Wreaths were laid by many countries who were represented by high ranking diplomats and very high ranking military personnel…not so with the United States….for some reason, the bravery of those that gathered at the Elba River for the final push to end the nightmare of Hitler. I was moved by their commitment to not allow that to happen again.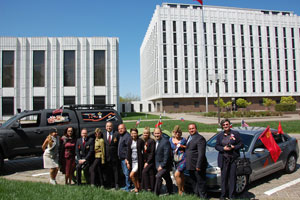 I was also impressed by the Russian Federation Ambassador to the United States. He was there among the few veterans that remain. They are old and bent and worn to the bone with heavy memories but there the Ambassador was in their mist. He never hurried them along but was attentive to each of them as they retold their stories or thanked him for the kind act of just remembering them and their sacrifices. I was truly impressed that a man whose days ae filled with all sorts of pressing issues took a work day, a Friday, and spent it with these aging men and women. I was touched greatly. For that day, at least, his world of negotiations, meetings, and countless duties stopped and he honored the men and women that 70 years ago, helped save his nation and many other countries as well. He was not to be hurried. I saw many staff members approach him with quiet conversation only to be politely told to stand aside while he tended to something that needed to be done and done now while these veterans were still with us.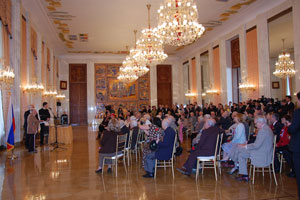 At the reception following the wreath laying, I was totally taken back by the reception having great food and drink for the veterans and guests with one very interesting twist. In one area of the great ball room, in a corner, stood one of the embassy staff dressed in a WWII uniform serving from a large pot the rations that the average soldier got during the war. It was a cooked grain, Kasha, with a little bit of shredded meat cooked in. A very simple meal that sustained the troops through the Russian winters and the battles that never ended. I was thinking that it was a nice gesture but then I became impressed as the longest line for food and beverage was at this simple table. Young and old alike stood there to have the rations of a simple soldier before dining on the great treats that surrounded them. Each in line wanted to have this soldiers meal and pay a tribute to those that lived through the toughest of times.
I was impressed that some people in this world remember and are sworn to not allow it to happen again. I am sad that I was one of very, very, very few Americans that were there or even remember.
John S. Philips | Principal Noah Consulting
Photo: Yelena Staroselskaya
Elba River Wreath Laying at Arlington national Cemetery VIDEO