Slavic Ball& Spring` celebration, sponsored by TCA on March 12&13
We appreciate the great support from Texas Commission on the Arts (TCA) to United Russian American Association to preserve our culture, traditions and music. We would like to make a difference, think globally and act locally. We are doing our bit to ensure that the future for girls is bright, equal, safe and rewarding.
The United Russian-American Association (URAA) organized a festival to commemorate these great dates.
The first performance had occurred to celebrate an International Women's Day on Saturday, March 12th, 2016 at the ASHFORD OAKS (2022 Wilcrest Dr, Houston, TX 77042) from 5 p.m. till 10.30 p.m.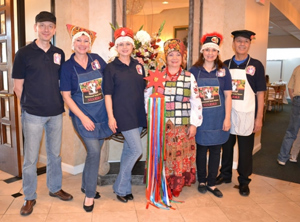 The second performance was to celebrate a Maslenitsa (return of spring) on Sunday, March 13th, 2016 from 1 p.m. till 4 p.m. in the "Holy Equal-of-the-Apostles Great Prince Vladimir` Church in Houston (24 Tidwell Rd. Houston, Texas 77022)
The Russian as well as the American discover this famous traditional Russian celebration; we had planned a special program of cultural activities from March 7th to March 13th 2016 such as Puppet performance, animators and tasty crepes.