In remembrance of the 70th anniversary of the end of World War 2
In 2015 the whole world will commemorate the 70th anniversary of World War 2.
The scale and inhuman dimension of the war, which lasted from 1939 to 1945, has remained unmutched. With more than 60 nations involved, World War 2 was fought on the territories of 40 European, Asian and African countries. It was during WW2 when humanity faced for the first time the threat of extermination and enslavement of entire races and nations. The great victory over the aggressors was only achieved at the cost tremendous loss of human lives and with the supreme efforts of our world`s nations united in the face of a horrific enemy.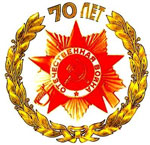 The UN General Assembly declared that May 8th and 9th will from now on serve as a time of remembrance and reconciliation to pay tribute to all those who gave their lives during WW2 for the sake of the freedom of humanity worldwide.
Russian Federation shared the burden of some of the most tragic periods in their history. More than half of the victims in WW2 were from the Soviet Union. The War cost the lives over 20 million Soviet citizens with more than 8 million civilian deaths.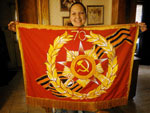 The Soviet Union and the United States were fighting alongside each other against fascism and Nazism. April 25, 1945, marks the 70th anniversary of a historic meeting of the allies near the German city of Torqau on the Elbe River. It is one of the most essential events of the WW2 final stage. "The meeting at the Elbe reminds us of the enormous advantages that we can provide for both our countries and for the rest of the world when we are united in dealing with global challenges and take advantages of the opportunities before us for the progress and cooperation", - emphasized the Russian and the American Presidents in their joint statement honoring the 60th anniversary of the Elbe meeting. The joint document also stated that "our nations will always remember the handshake that made history at the Elbe, which became one of the most vivid symbols that our countries were comrades-in-arms in fighting together against the Nazi tyranny, oppression and aggression".
The need to establish partnership relations among the countries in the face of global challenges for the sake of just and stable peace on Earth has become one of the vital lessons of World War 2.
Elena Suvorova-Philips
 FESTIVAL «I remember, I proud» January - May 2015
Deducated to 70th annyversary of Victory day at World War II
Car rally Houston TX- Washington, DC - http://www.ksors.org/rally-from-houston/